Vamonos Pest Control
Talk

0
389pages on
this wiki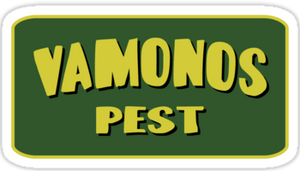 Vamonos Pest Control is a fumigation company based out of Albuquerque, NM. It was owned by Ira until he sold it to Mike Ehrmantraut, Walter White, and Jesse Pinkman to be used as a front for their methamphetamine manufacturing organization.
About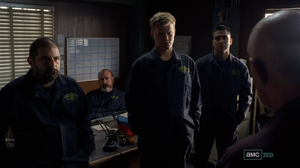 Vamonos Pest Control tents around four houses every week in the Albuquerque area, but the primary source of income for the five-man crew was scoping valuables, copying keys, and evaluating houses to be burgled. The Vamonos employees would either sell the information to other thieves or rob the houses themselves after a period of time. Saul Goodman was lawyer to many of Vamonos' crooks.
In 2009, Vamonos was sold by Ira to Mike, Walt, and Jesse to be used as a front for their newly founded methamphetamine organization. The Vamonos crew was strictly instructed to not speak to Walt nor Jesse and were forbid from stealing from any of the houses that Walt and Jesse were working in. ("Hazard Pay") Mike died and Jesse left voluntarily, leaving Walt as the sole owner. ("Say My Name")
Mobile lab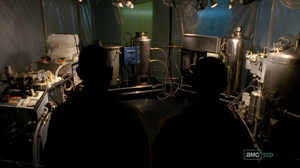 Badger and Pete got the rolling lab equipment for Walt and Jesse. Around once a week, Walt and Jesse would identify a house that would serve as a temporary cook location. The Vamonos employees would tent the house as usual but roll in the mobile lab equipment inconspicuously for Jesse and Walt. The lab would be erected in an air-tight tent inside the house as to not taint the house with odors. Once the cook was complete and lab packed up, the regular bug bombing would commence.
Trivia
Badger and Skinny Pete are very fond of their new roll on making their product, which would be this operation.
Employees
Gallery