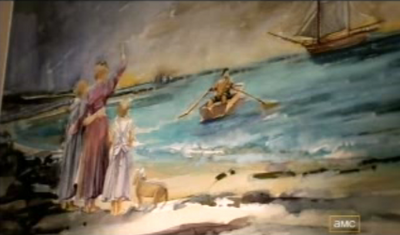 Throughout the entire series (which takes place over the span of two years), this painting has made numerous appearances in
Walter White's
life, most notably, in the doctor's office where he receives his initial cancer diagnosis. The painting depicts a man in a boat paddling away toward a ship while, presumably, his wife and children wave goodbye.
A symbol of Walt's own growing alienation from his family and loved ones.
Ad blocker interference detected!
Wikia is a free-to-use site that makes money from advertising. We have a modified experience for viewers using ad blockers

Wikia is not accessible if you've made further modifications. Remove the custom ad blocker rule(s) and the page will load as expected.