The Dog House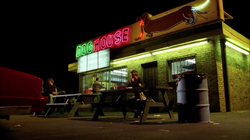 ---
The Dog House is a drive-in in Albuquerque.
History
Better Call Saul
Season 2
Jimmy McGill and Kim Wexler eat here while discussing her resignation from Hamlin, Hamlin & McGill. ("Fifi")
Breaking Bad
Season 1
Jesse Pinkman sold meth here before he and Walter White attempted to wholesale to Tuco Salamanca. ("Crazy Handful of Nothin'")
Season 2
Jesse, scared of Tuco, bought a Ruger SP-101 here. ("Seven Thirty-Seven")
Season 5
Jesse sat in his car here and gave money to a homeless man who knocked on its window before driving off. ("Blood Money")
When Jesse went missing after attempting to torch Walter White's house, Patrick Kuby looked for him at The Dog House. ("Rabid Dog")
Trivia
Production
The filming location for The Dog House was a real drive-in called The Dog House located at 1216 Central Ave SW Albuquerque, NM 87121.
The Dog house also appears in a film called First Snow starring Guy Pearce.
Ad blocker interference detected!
Wikia is a free-to-use site that makes money from advertising. We have a modified experience for viewers using ad blockers

Wikia is not accessible if you've made further modifications. Remove the custom ad blocker rule(s) and the page will load as expected.