Smith & Wesson M945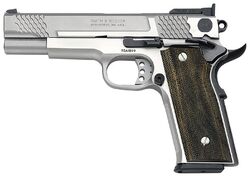 Type
Semi-automatic pistol
---
Manufacturer
Smith & Wesson
---
---
---
---
The Smith & Wesson 945 is a single-action, .45 caliber semiautomatic pistol from Smith & Wesson. It incorporates features from the M1911 pistol series, such as a SA-only trigger, a grip safety, and a frame-mounted thumb safety, and is the predecessor to the Smith & Wesson 4500 pistol series. The 945 can be distinguished from a M1911 by the unique contours on the slide and by the internal safety mechanism inside the slide, which is externally visible as a black circle where the S&W 4506's safety switch would be located.
Season 3
A Smith & Wesson 945 is used by the Rival Dealers and by Walter White to shoot one of the surviving dealers after running him over ("Half Measures").
Ad blocker interference detected!
Wikia is a free-to-use site that makes money from advertising. We have a modified experience for viewers using ad blockers

Wikia is not accessible if you've made further modifications. Remove the custom ad blocker rule(s) and the page will load as expected.