Smith & Wesson 4566TSW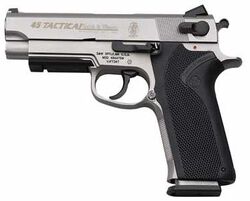 Type
Semi-automatic pistol
---
Manufacturer
Smith & Wesson
---
---
---
---
---

The Smith & Wesson 4566 is a single-stack "Third Generation" S&W auto pistol chambered in .45 ACP. Along with the larger Smith & Wesson 4506, its "big brother", it is one of several .45 ACP pistols authorized by the LAPD. It is also available in the "tactical" version (equipped with an accessory rail). It can be considered the S&W 45 auto equivalent of the Colt Commander.
Season 5
The Smith & Wesson 4566 is used by Todd Alquist to kill Drew Sharp at the end of "Dead Freight".
Ad blocker interference detected!
Wikia is a free-to-use site that makes money from advertising. We have a modified experience for viewers using ad blockers

Wikia is not accessible if you've made further modifications. Remove the custom ad blocker rule(s) and the page will load as expected.