Broadcast
Original run
First Half: July 15, 2012

Second Half: July 2013

No. of Episodes
16 (8 + 8)
Home video release
DVD release
Blu-ray Disc release
AMC has confirmed that the fifth season of Breaking Bad will conclude the series. The season will consist of 16 episodes and will split in half, the first eight episodes airing in 2012 and final eight (sometimes referred to as "Season 6") in 2013. The first half premiered July 15th, 2012.
Story
No longer under the thumb of a mastermind criminal, Walt now assumes the role of one himself, as he and Jesse look to build their own empire. Meanwhile, Skyler struggles with the reality of her husband's new role and Hank works to wrap up his investigation of Gus' business.
Cast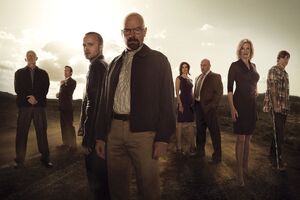 Main Cast
Supporting Cast
Episodes
Part 1
"TBD"
Images
Cast headshots
Videos