The second season of the American television drama series Better Call Saul was announced in July of 2014. The series returned on Monday, February 15th 2016, at 10pm ET/PT. It consisted of 10 episodes, each running approximately 45 minutes in length.
Story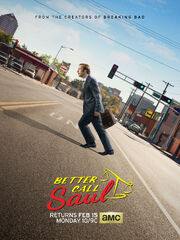 To Be Added

Credits
Episodes
Trivia
Originally ordered for 13 episodes, it was reduced to 10 episodes in November 2015.
When put in the right order, the first letter of each episode title spells "FRING'S BACK". The creators have confirmed that it is a clue about the appearance of Gustavo Fring in the series.
Promotional Photos
Awards and nominations