Ramey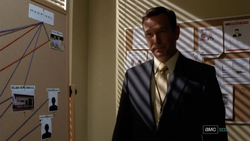 ---
---
---
---
---
---
---
---
SAC Ramey is the Special Agent in Charge of the El Paso division of the DEA.
History
Season 2
He and ASAC George Merkert debriefed Hank Schrader after the shooting of Tuco Salamanca. ("Bit by a Dead Bee")
Later, Ramey welcomed Hank Schrader to the El Paso office. ("Negro y Azul")
Season 5
After George Merkert was phased out of his role of ASAC of the Albuquerque DEA office, Ramey visited from El Paso to find a replacement. He chose Hank Schrader for his work on the Fring drug empire investigation. Hank accepted. ("Fifty-One")
Ramey later chewed out Hank for using so many DEA resources on investigating Mike Ehrmantraut. He ordered the investigation to be closed. ("Say My Name")
Trivia
SAC stands for "Special Agent in Charge"