Mrs. Nguyen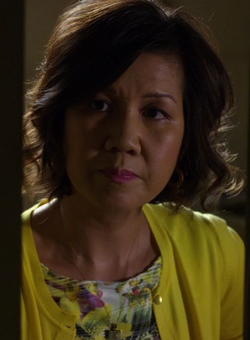 ---
---
---
---
Occupation
Nail Salon Owner
---
---
Mrs. Nguyen is the owner of the nail salon.
History
Season 1
TBA
Season 2
Mrs. Nguyen is seen chiding Jimmy McGill when he goes to drink cucumber water, exclaiming that it is for customers only. Going by his new "done doing the right thing" mentality, he defiantly drinks the water straight from the spigot (Switch).
Jimmy returns later to pick up his Davis & Main company car from the nail salon as the workers huddle around the car in awe and Mrs. Nguyen watches from the doorway. Before he departs, he jokingly asks if Mrs. Nguyen is going to give him a hug goodbye as she shakes her head and walks back inside (Cobbler).
Appearances