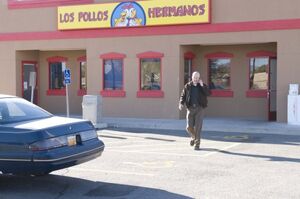 Los Pollos Hermanos is a fast food restaurant chain that specializes in chicken. The English translation of the name is "The Chicken Brothers." Gus Fring is the co-founder and owner with fourteen locations throughout the southwest. Gus uses this legitimate business to aid in his shipment and distribution of drugs, specifically crystal methamphetamine. Madrigal Electromotive has an ownership stake in the company.
Gus Fring has a back office at one of the locations which he uses as an headquarters for both his chicken and meth empires. The flagship restaurant has had many visitors from employee's of Gus's other business, namely Walter White, The Cousins, and Mike Ehrmantraut. Hank Schrader has also staked out the restaurant to monitor Fring.
When Gus wants to talk to one of his employees, he texts them "Pollos" to have them meet at his restaurant or chicken farm.
Trivia
thumb|300px|Los Pollos Hermanos commercial and a look at how it ties in with Gus Fring's superlab production process.
The Los Pollos Hermanos location in the show is filmed at 4257 Isleta Blvd. SW, Albuquerque, NM.
In reality, Los Pollos Hermanos is a a rebranded chain restaurant called "Twisters" that is local to Albuquerque. Twisters is a New Mexican influenced burrito and burger restaurant.
The Los Pollos Hermanos poultry farm where Gus runs the illicit side of his empire is, in real life, is 'Cal-Maine Foods' and is located at map reference 34°57'19.53"N 106°40'10.41"W
The Season 3 episode "Kafkaesque" has a TV commercial for Los Pollos Hermanos. The commercial's copyright says "Los Pollos Hermanos Inc. is a registered trademark of Madrigal Electromotive GmbH".
The voice used for the narration of the LPH commercial sounds uncannily like Ricardo Montalban.