John B. Robert Dam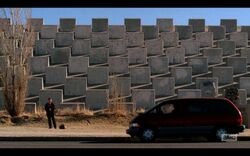 Jesse waits for the extractor at John B. Robert Dam in Albuquerque
Address
Juan Tabo Boulevard and Osuna Road
---
---
---
The John B. Robert Dam is located in Northeast Albuquerque. Behind the concrete structure is an enormous dry spillway designed to catch floodwaters. 
History
Season 5
John B. Robert Dam serves as the pickup point for both Jesse and later for Walt as each waits for the extractor. ("Confessions") ("Ozymandias")
Location
The location given by Saul to Jesse, Juan Tabo Boulevard and Osuna Road, is the actual location of the dam.