Jane's Apartment
Talk

0
389pages on
this wiki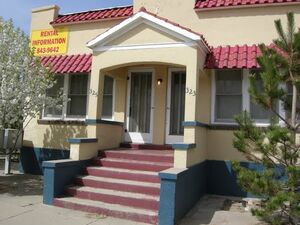 Jane's Apartment has two units, one for herself and one rented to Jesse. It is owned by her father, Donald, and managed by her. Each unit is quite small, with a living area, a kitchen, a bedroom, and (presumably) a bathroom. They each have a front door and a back door that leads to a shared backyard area.
Even though both she and Jesse smoke, she forbids smoking in the apartments under her father's orders. Before their relationship they once met in the back outside while smoking. As time goes on, however, they both smoke and do drugs inside Jesse's unit, and allow his place to fall into greater disrepair. At one point Walt busts through Jesse's back door to get at the hidden stash of meth they had cooked, yet neither Jesse nor Jane seem to care about the big hole left in the door.
The interior of Jane's apartment was never shown until after her death. Unlike Jesse's apartment, which looked like a stereotypical drug dealer's place (empty beer bottles, plasma TV, spartan furniture, etc.), her apartment had remained well decorated and tidy. It's a reminder of the stark difference in Jane's personality and conscientiousness while on and off heroin.
Jesse vacates his apartment after Jane's death and eventually moves back into his former house.
Jane's house is actually located at: 325 Terrace St SE Albuquerque, NM 87106