Fifi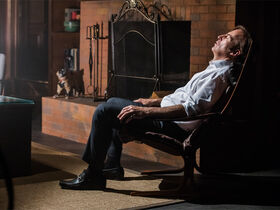 ---
---
---
---
---
---
---
"Fifi" is the eighth episode of the second season of Better Call Saul and the eighteenth episode of the series altogether.
At the U.S.-Mexico border, hundreds of semi trucks await their turn to cross the border. The camera tracks as one Regalo Helado ice cream truck crosses through the border, then is redirected to an inspection station. Once inside the depot, Border Patrol agents comb through the entire truck searching for any possible drugs the ice cream truck could be carrying, while the driver looks on anxiously. After a while, he's cleared and allowed to go on his way, but not before he opens and takes an ice cream popsicle from one of his boxes for himself.
The driver pulls to a stop on a rural roadway a few miles from the border. He gets out, and walks a short distance away to a drop site marked by a loose rock. He moves away the rock and grabs a revolver stashed in a lockbox hidden by the rock. He then returns to his truck and drives off. As he leaves, the camera pans down on a pile of popsicle sticks planted in the ground near the rock; this guy is a drug courier and this is not his first smuggling run.
Summary
TBA
Credits
Main Cast
Guest Starring
Co-Starring
Julian Bonfiglio as Sound Guy
Anthony Garcia as Ice Cream Shop Manager
Joshua Nathaniel Melendez as Air Force MP
Richard Bacca II as Border Agent
John Trejo as Border Inspector
Glenn Foster as Ice Agent
Steve Stafford as Helicopter Pilot
Uncredited
Lorus Allen as Customs Agent
Harona Ceesay as Patron
Shawn Lecrone as Airman Jackson
Jon McGarrah as Flightline AF Airman
Gustavo Montes as Border Patrol Agent
Trivia
The scene where the truck driver retrieves the hidden gun was filmed on the same stretch of road that both Los Pollos Hermanos truck attacks ("Bullet Points" and "Cornered") were filmed on.
Jimmy and Kim are eating hot dogs at the "Dog House", the place where Jesse Pinkman used to sell meth before meeting Walter White.
Cultural references
Featured Music
TBA
Legal notes
Ad blocker interference detected!
Wikia is a free-to-use site that makes money from advertising. We have a modified experience for viewers using ad blockers

Wikia is not accessible if you've made further modifications. Remove the custom ad blocker rule(s) and the page will load as expected.