Dr. Cruz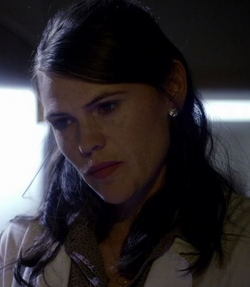 ---
---
---
---
---
---
Dr. Cruz is a doctor who treats Chuck McGill after he was tased by two police officers.
History
Season 1
Chuck wakes up in a hospital bed and panics at the sight of the fluorescent lights above his head. Jimmy shows up and begins to turn off the various electronics in the room, prompting Dr. Cruz to call a security guard on him until he explains Chuck's condition to her and she hears him out. Dr. Cruz suggests Jimmy committing Chuck for psychiatric evaluation as the condition may be a mental rather than physical. Dr. Cruz activates Chuck's hospital bed without Chuck's knowledge to prove to Jimmy that the condition is mental as he would have panicked if he was really allergic to electronics. Dr. Cruz pleads for Jimmy to commit Chuck as his condition could make him a danger to himself and those around him. ("Alpine Shepherd Boy")
Appearances
Ad blocker interference detected!
Wikia is a free-to-use site that makes money from advertising. We have a modified experience for viewers using ad blockers

Wikia is not accessible if you've made further modifications. Remove the custom ad blocker rule(s) and the page will load as expected.