Domingo Molina
Talk

0
389pages on
this wiki
Domingo Gallardo Molina, better known as Krazy 8, was a meth distributor formerly associated with Jesse Pinkman. He is also the cousin of Emilio.
History
According to himself, he was born in Alburquerque. His father owns Tampico Furniture on Menaul. He worked in the store before quitting. Walt was a customer back then, and he speculated that he might have met Walt at that time. He has a degree in Business Administration from the University of New Mexico. He originally wanted to study music in Oberlin College or Berklee College, but his father persuaded him not to. He also has an uncle called Alex who wrote songs for the furniture store infomercial. ("...and the Bag's in the River")
Sometime after that he began working as a meth distributor with his cousin Emilio Koyama. Unbeknownst to Walt and Jesse, Krazy 8 was a DEA informant, acquiring the customers of the dealers he rats out ("Cancer Man").
Season 1
Krazy 8, secretly a snitch to the DEA, reported the location of Emilio and Jesse's meth lab. It led to the bust of the lab and the arrest of Emilio. ("Cancer Man")
When Jesse tried to sell Walt's new product to Krazy 8, he forced Jesse to take him to his new partner. Krazy 8 claimed that Walt is involved with law enforcement and appeared intent to kill him until Walt offered to teach him his drug formula. While mixing chemicals, Walt created a small explosion that produces phosphane gas and appeared to kill both Emilio and Krazy 8 ("Pilot").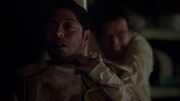 Emilio died, but Krazy 8 eventually regained consciousness, prompting Jesse and Walt imprison him in Jesse's basement for several days as Walt worked up the courage to kill him ("Cat's in the Bag..."). Walt attempted to rationalize freeing Krazy 8, who had regained his health, but eventually strangles him with a bike lock upon realizing Krazy 8 planned to attack him with a concealed piece of a broken plate ("...and the Bag's in the River"). It is then heavily implied by Jesse that he was dissolved in hydrofluoric acid like his cousin Emilio.
Trivia
The character Max Arciniega was named after Krazy 8's actor, Max Arciniega.
Notes