Wrong number
Category page
Talk

0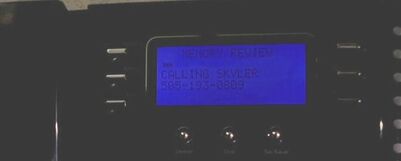 The number of the land line at the White residence shown on the Schrader's phone's caller ID display is (505-193-0809) Shown in Season 2 Episode 1 (Seven Thirty-Seven). This is inconsistent with the number quoted in the episode "Mas" which was (505) 555-1258 and different again to the number quoted in "Ozymandias" which was (505) 117-8987.
Pages in category "Wrong number"
Ad blocker interference detected!
Wikia is a free-to-use site that makes money from advertising. We have a modified experience for viewers using ad blockers

Wikia is not accessible if you've made further modifications. Remove the custom ad blocker rule(s) and the page will load as expected.