Caldera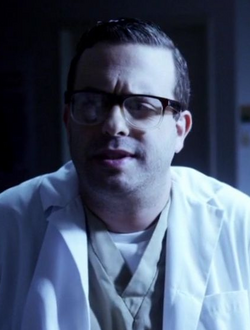 ---
---
---
---
---
---
Caldera[1] is a veterinarian who offers Mike Ehrmantraut work.
History
Season 1
Mike finds Caldera who will stitch up his wound without asking too many questions. Caldera offers to refer Mike for some "work," Mike declines and says he's not looking for that type of work. ("Five-O")
Mike visits Caldera once again, and has him examine a shelter dog he adopted. While there for the dog's examination, Mike asks the vet whether he still has the "work" available to which he previously alluded. ("RICO")
Appearances
References
Ad blocker interference detected!
Wikia is a free-to-use site that makes money from advertising. We have a modified experience for viewers using ad blockers

Wikia is not accessible if you've made further modifications. Remove the custom ad blocker rule(s) and the page will load as expected.