Bryan Lee Cranston is the American actor who played Walter White in Breaking Bad. Cranston has won three consecutive Emmys for Outstanding Lead Actor in a Drama Series for this role. On the set of the final 8 episodes, Cranston called the final 8 episodes "A roller-coaster ride to hell" and states "You won't wanna miss this".
Bio
Born in California's San Fernando Valley, Bryan grew up in Los Angeles and went to college to study police science.
He got his start in acting in the theatre, and soon began doing commercial and TV work. His first big role was a 9-episode recurring spot on the TV series Raising Miranda as Uncle Russell. He continued to hold small television and film roles, including a recurring spot on Seinfeld as a dentist.
In 1997, he played Ranger Captain Ericsson in the Babylon 5 episode, "The Long Night."
In 1998 he was cast as Buzz Aldrin on the HBO miniseries From the Earth to the Moon.
Also in 1998, he played Patrick Crump, the lead antagonist of the episode "Drive" of The X-Files. In the episode, the anti-Semitic Crump forces Agent Fox Mulder (David Duchovny) to drive him west, supposedly to escape an ultrasonic signal that is slowly driving him insane and will eventually kill him. "Drive" was written by Vince Gilligan, who at that time was an executive producer on The X-Files. Gilligan said later that Bryan's performance as Crump - an unlikable person who nevertheless succeeds in gaining the audience's sympathy, but becomes less and less sympathetic as the episode goes on - was pivotal in Gilligan's decision to cast Bryan as Walter White, when Gilligan created Breaking Bad.
Two years later, he was cast as the father Hal in the Fox sitcom Malcolm in the Middle which ran for six years. The producers of Breaking Bad were initially skeptical about Vince Gilligan's choice, since they associated Bryan with his comedic role as Hal, but changed their minds after Gilligan showed them Bryan's scenes from The X-Files.
He has appeared in a couple episodes of How I Met Your Mother as Ted's obnoxious boss. He also was on King of Queens as the loud neighbor with the pool over looking the privacy fence. 
In 2008, he was cast in Breaking Bad as Walter White, a role that has earned him three Emmy Awards and numerous other awards.
In 2014, he starred in the movie Godzilla.
He is also a director, writer and producer. Bryan wrote, directed, and produced the film Last Chance, and has directed episodes of Malcolm in the Middle, Big Day and Breaking Bad.
Appearances
Episodes Directed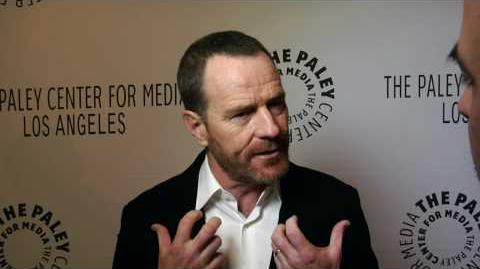 Trivia
Bryan was a member of the chemistry club in high school.
In the episode Rabid Dog, Walt asks Patrick Kuby about his search for Jesse, and Kuby tells him, "I put a bug in the Mayhew tall kid's mom's place.  For three hours straight all he kept talking about was something called Babylon 5."  Bryan had a small part in that show as Ranger Captain Ericsson in the episode "The Long Night."
Before the series finale of Breaking Bad aired, Bryan released a joke alternate ending where his Malcolm in the Middle character, Hal, wakes up and all the events of the show are just a dream. This plot device has been used in Lost, Newhart, The Late Late Show with Craig Ferguson and Dallas.

It has also been an online joke among fans of Breaking Bad for years, that the events of the series were simply a dream of Hal's or that Hal was the assumed identity of Walter White in the Witness Protection Program.[1]

Bryan has frequently said that his stardom and the amount of subsequent film and television work he has been offered would not have happened had he not had the chance to appear in Breaking Bad; to commemorate this, he has the chemical symbols for bromine (Br) and barium (Ba) tattooed on his finger in the same style as they appear in the show's title logo.
Production
Bryan Cranston was paid $225,000 per episode in season 5 [2].
External Links
Notes
Emmy Award videos
Ad blocker interference detected!
Wikia is a free-to-use site that makes money from advertising. We have a modified experience for viewers using ad blockers

Wikia is not accessible if you've made further modifications. Remove the custom ad blocker rule(s) and the page will load as expected.