Bogdan Wolynetz
Talk

10
389pages on
this wiki
Bogdan Wolynetz, nicknamed "Eyebrows" by Walt and Skyler, was the Romanian proprietor of a local car wash in Albuquerque where Walt previously worked part-time.
After the purchase of the car wash, Walt's drug money was laundered through this car wash.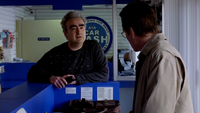 Born in Romania, Bogdan moved to the United States at some point and invested in a car wash business. Bogdan consistently wound up understaffed, so Walter, although only hired to be a cashier, often found himself out scrubbing cars as well. Bogdan is Walter's non criminal nemesis.
Walt continues to work for Bogdan at the car wash until he suddenly collapses and is taken away from the ambulance., where he discovers that he is diagnosed with lung cancer. After his cancer diagnosis, however, Walt quits, making a huge scene and telling Bogdan to "Wipe down this!" while grabbing his crotch ("Pilot").
After learning of Walt's secret, Skyler comes up with the idea of buying the car wash rather than investing in a local laser tag (as proposed by Saul Goodman as a means of laundering his money. Walt reluctantly agrees. Bogdan is briefly seen outside talking to his employees when Saul explains to Walt about the fundamentals of investing a business for money laundering.
Skyler decides to carry out her idea of purchasing the car wash to launder her and Walt's money. Skyler then enters the premises of the car wash and asks to speak with Bogdan in his office.
Skyler offers $879,000 for the car wash and explains to Bogdan why the price was offered. However, Bogdan retaliates and raises the price of the car wash to up to $2,000,000 because of the way Walt behaved when he quit his job, revealing that he knows that Skyler is his wife, and says that Walt should have gone to the car wash himself rather than to "send his woman like a coward". Offended, Skyler leaves the premises without its purpose being fulfilled.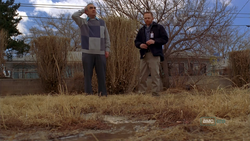 Walter, Skyler, and Saul attempt to find a way to convince Bogdan to sell his car wash to them. Saul insists on investing on other businesses including the laser tag, or other car washes, but Walt finally insists on buying this car wash after learning about what Bogdan said about him. Saul comes up with a plan to use a fake inspector to read that there was a sewage problem and presses Bogdan to close the deal. The attempt was not only a success, the initial offer was reduced to $800,000 by Skyler, from which Bogdan still agrees to.
After the documents were signed and the car wash was legally claimed by Walt and Skyler, Walt meets with Bogdan at the car wash. Bogdan lectures Walter that to be a boss, he must be "tough", and he provokes Walt by saying that he made Walt scrub down cars to promote his image of being tough. Bogdan attempts to take his a dollar on a frame that is hung on a wall, being the first dollar the car wash has ever made, and setting of great emotional value to him. Walt signals Bogdan to hand over the frame, telling him to leave the car wash "as is". Disgusted, Bogdan leaves the premises. Walt breaks the frame and uses the dollar to buy a Coke from a vending machine.