Big Chief Gas Station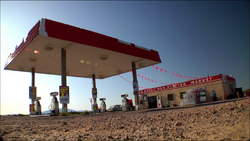 ---
---
Employees
Cara
Matt (former)
---
Big Chief Gas Station is a gas station about 35 miles outside Albuquerque.
History
Season 3
Jesse Pinkman filled up at the gas station and having found his pockets empty, charmed Cara and paid for his gas and cigarettes with a sixteenth of an ounce of meth. Cara had never tried meth before and didn't like it when she did try it. She then passed it on to her friend and former colleague, Matt.
Later, Hank Schrader arrived at the gas station and pressed her for any details she could provide on Jesse ("Green Light").
Trivia
Production