In the episode "Buried," Saul Goodman suggests euphemistically that Walter White send his brother-in-law on a trip to Belize saying, "You know, where Mike went," referring to Mike Ehrmantraut and his death.
Belize Tourism Board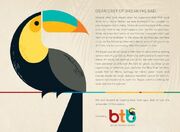 Soon after "Buried" aired, the Belieze tourism board published an advertisement inviting the cast of Breaking Bad for an all-expenses-paid trip to Belize.
Ad blocker interference detected!
Wikia is a free-to-use site that makes money from advertising. We have a modified experience for viewers using ad blockers

Wikia is not accessible if you've made further modifications. Remove the custom ad blocker rule(s) and the page will load as expected.