Aztek
Talk

0
389pages on
this wiki
The Pontiac Aztek was Walter White's car. It has a faded factory paint job and is missing the factory alloy wheel on the drivers' rear corner, replaced with a far less attractive steel replacement wheel.
This vehicle is notorious for being an under-achieving 'crossover' model, being neither a decent minivan, nor an SUV, and is also well-known for having an ugly, plastic appearance.
Walter's Aztek has had its windshield broken several times during the course of the series. Once when Wayfarer 515 crashed with a chartered plane, the debris from the mid-air collision causes debris to land on his vehicle, breaking the windshield. ("ABQ") Walter is pulled over and given a citation for driving with a broken windshield, an encounter that infuriates Walter and that leads to him being pepper sprayed and arrested by the officer who pulled him over. ("Caballo Sin Nombre") On another occasion, an argument between Walter and Jesse Pinkman leads to Pinkman picking up large piece of cement from a broken curb and using it to shatter Walt's windshield. ("Mas")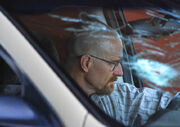 The front end was banged up when Walt drove the car into two rival drug dealers who were about to kill Jesse. ("Half Measures") Later Mike tells him to get it fixed immediately, and he does. ("Full Measure") The back end got banged up when Walt intentionally steered his car into oncoming traffic to avoid having to take Hank to the industrial laundry where the superlab is hidden ("Crawl Space").
When Walt's mechanic had finished repairing the Aztek yet again, Walt realized he didn't want the vehicle and sold it to his mechanic on the spot for $50. He then leased a new Chrysler 300. ("Fifty-One")
External links