Arroyo Realty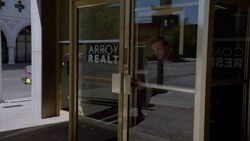 ---
---
Arroyo Realty is a realty office located in Albuquerque.
Brandon "Badger" Mayhew was hired as a walking sign to attract people into the office. Jesse Pinkman interviewed for the position, but declined the job after learning its true nature ("Gray Matter")
Trivia
Production
Ad blocker interference detected!
Wikia is a free-to-use site that makes money from advertising. We have a modified experience for viewers using ad blockers

Wikia is not accessible if you've made further modifications. Remove the custom ad blocker rule(s) and the page will load as expected.