AMT Backup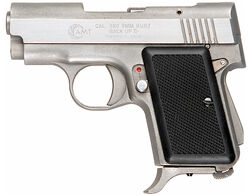 Type
Semi-automatic pistol
---
---
---
---
---
---

The AMT Backup was first known as the OMC Backup. This early variant was produced in .380 ACP caliber. The AMT Backup is a small semiautomatic pistol available in a wide range of calibers: .22LR, .380 ACP, .38 Super, 9x19mm, .357 Sig, .40 S&W, .400 Corbon and .45 ACP have all been offered. This pistol was designed to be carried as a backup gun by law enforcement and security professionals or anyone desiring a small concealable weapon.
Season 5
An AMT Backup .380ACP is seen in Gliding Over All. Jesse Pinkman tosses it to the floor right after Walter's visit.
Ad blocker interference detected!
Wikia is a free-to-use site that makes money from advertising. We have a modified experience for viewers using ad blockers

Wikia is not accessible if you've made further modifications. Remove the custom ad blocker rule(s) and the page will load as expected.