2012 Chrysler 300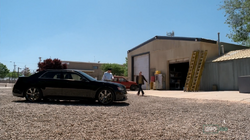 ---
---
---
---
---
---
---
---
---
The day before Walter White's 51st birthday he sold his Aztek for $50 and leased a brand new Chrysler 300 SRT-8. The rate on the leases fits within his Car Wash cover story.
He also leased Walter White Jr. a 2012 Dodge Challenger the same day. ("Fifty-One") Walter later abandoned the Chrysler 300 in the desert after the gas tank is struck by stray bullet and leaks all of its fuel. ("Ozymandias")
Trivia
The model, which is first seen in "Fifty-One", is actually a 2013 Chrysler 300 SRT-8. This makes sense in reality since Season 5 was filmed in early 2012; but not for the the show's universe, which takes place in 2010.