2009 Toyota Yaris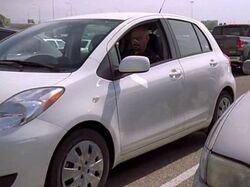 Walter sitting in the Toyota Yaris listening to the radio report on the bombing at the Casa Tranquila
---
---
---
---
---
---
---
---
---
The Toyota Yaris was the rental car Walter White drove while his Pontiac Aztek was being repaired after he intentionally steered his car into oncoming traffic to avoid having to take Hank to the industrial laundry where the superlab was hidden ("Crawl Space").
Ad blocker interference detected!
Wikia is a free-to-use site that makes money from advertising. We have a modified experience for viewers using ad blockers

Wikia is not accessible if you've made further modifications. Remove the custom ad blocker rule(s) and the page will load as expected.