2006 Volkswagen New Beetle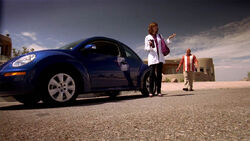 ---
---
---
---
---
---
---
A 2006 Volkswagen New Beetle belonged to Marie Schrader.
History
At one point, Marie ran over a child's remote-controlled car with her Volkswagen New Beetle. Hank Schrader apologetically handed the kid money to replace the broken toy after Marie drove away.
Trivia
Marie's Volkswagen Beetle sold at Auction October 8th 2013 for $10,000.