This GMC Yukon, owned by William Mihaiu, made its journey all the way from the Breaking Bad set in Albuquerque, New Mexico to Oxford, Massachusetts. It was featured in the final season of Breaking Bad (episodes To'halliee" and Oxymandias"). The vehicle was owned by Steven Gomez on the show and was the ACTUAL vehicle used in the shoot-out between Hank Schrader and Steven Gomez and Uncle Jack and his gang of thugs. This scene was meticulously shot, with strategically placed explosive bean-bags, manually discharged in a precise order to simulate real bullet holes. The SUV was on display at Rhode Island Comiccon's 2014 show, which took place on November 1st and 2nd in Providence, Rhode Island. Fans were also able to enjoy it at Supermegafest in Framingham, Massachusetts on November 22nd and 23rd. They were encouraged to take pictures outside and inside the vehicle, for a small fee in return. All proceeds benefit no-kill animal shelters in the Northeast Region, paying for urgently needed supplies to care for the cats and dogs who reside at these facilities. The next show will take place at Rhode Island Comiccon's 2015 show, which will take place on November 6-8th at the Rhode Island Convention Center/Dunkin Donuts Center in Providence, Rhode Island.
1997 GMC Yukon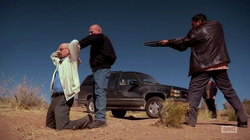 ---
---
---
---
---
---
---
---
The 1997 GMC Yukon was Steven Gomez's car.
Ad blocker interference detected!
Wikia is a free-to-use site that makes money from advertising. We have a modified experience for viewers using ad blockers

Wikia is not accessible if you've made further modifications. Remove the custom ad blocker rule(s) and the page will load as expected.